Call us on 0844 804 4190
Nailers, Staplers, Nails and Staples, Safety Footwear, Safety Equipment & Workwear

.
Motorola XTR446 Short-Range Two Way Radio for Business
Description

Motorola XTR446 Short-Range Two Way Radio for Business. The lightweight XTR446, the first commercial twinpack, has many features of a licensed radio, comes complete with headsets, and is accessible to everyone. Cost effective Two-Way radio Communications from Motorola. No licence fee, airtime charges or contracts.
Features:
Keypad Lock
Single pin accessory connector
Backlit LCD
Battery meter
Side button volume control
Side PTT
Belt Clip
Scan
Priority channel
Water resistant
Auto Squelch
Power save
ALT - Accelerated Life Tested (tests include: vibration, moisture, drop-test, salt, fog, heat and cold)
Standard Package Comprises:
2 x Radios
2 x Rechargeable NiMH Batteries
2 x Belt Clips
2 x Boom Microphones
Twin Drop-In Charger
1 x Power Supply
User Guide
Technical specification
Channels 8
Codes 38 + CSQ
Operating frequency PMR446 (Licence-free frequencies)
446.00625 – 446.09375


Talk Range Up to 8km (5 miles) can be achieved,
or exceeded, depending on
environment, terrain and conditions.


Power Source Rechargeable NiMH battery pack
(supplied) or 4 AAA alkaline batteries
Transmit power 0.5 watts
Typical battery life 18 hours (NiMH rechargeable),

30 Hours (Premium alkaline)


Dimensions

Height 178 mm (including antenna),
118mm (excluding antenna)
Width: 58 mm
Depth: 34 mm
Weight 174g (with Belt Clip & Battery
Images: 1 | 2 | 3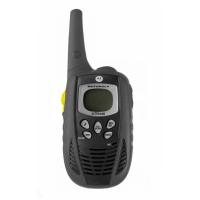 Click to view larger Image.