Call us on 0844 804 4190
Nailers, Staplers, Nails and Staples, Safety Footwear, Safety Equipment & Workwear

.
21st Century Carton Bottom Closing Stapler
Description

This Stapling machine is engineered to a very high standard and offers great value money.
Manufactured in UK
Specifications:

Three version available:
1] 21C-3218 Stapler for Single/Double Wall
Board boxes takes 32-15, 32-18mm staples
2] 21C-3222 Stapler for Double/Triple Wall
Board boxes takes 32-22mm staples
3] 21C-3218J Jumbo Stapler for extra deep Single/Double Wall Board boxes
(300mm higher post then standard one)
Magazine loading: top load
Magazine capacity: 250 Staples
Dimensions (L×H×W): 80 × 120 × 80 cm

Images: 1 | 2 | 3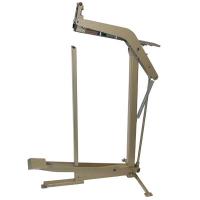 Click to view larger Image.