Call us on 0844 804 4190
Nailers, Staplers, Nails and Staples, Safety Footwear, Safety Equipment & Workwear

.
Powernail 18 Gauge L Shaped Cleat Nails
Description

18 Gauge L Shaped Cleat Nails. Powercleats® 18 gauge nails are made with a well formed set of barbs along both edges of the Cleats/nail. This design allows for better holding power.
Powercleats® are FHA and VA Approved.
The unique tip design aids in driving the cleat into flooring and underlayment
The design and single impact point helps eliminate split tongues in flooring.
Powercleats® nails ensure trouble-free operation and optimum construction results.
18 gage nails are for use on 10MM, 12MM, 15MM hardwood flooring.
Available in 32mm and 38mm

Images: 1 | 2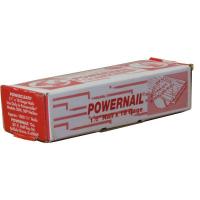 Click to view larger Image.
Other things that may be of interest...