Call us on 0844 804 4190
Nailers, Staplers, Nails and Staples, Safety Footwear, Safety Equipment & Workwear

.
Motorola XTNi Two Way Radio Walkie Talkie
Description

Motorola XTNi Two Way Radio Walkie Talkie. For business and everyday use. Built to Military specification XTNi boasts a range of approximately 8km. Motorola's newest addition to the un-licensed market.
Standard Package Comprises:
Radio
Rechargeable LiIon Battery
Drop-In Charger
1 x Power Supply
Belt Clip
R&TTE Leaflet
User Guide
Features:
8 channels
Range approx 8km, terrain dependent
16 preset channels
122 interference eliminator codes (reduces interference from consumer radios)
Keypad lock
Cast metal chassis
Belt clip
Tri-Colour LED
Volume control
Scan
VOX with accessory, iVOX without accessory
Voice scrambling
Nuisance delete
Automatic power save
Alert inc. channel busy, heartbeat, transmit LED, low battery alert (XTNiD)
3 call tones
Backlit Display (XTNiD)
Technical Specifications:
Frequency Range (MHz):

446.00625 - 446.09375

Transmit Power:

500 mWatt

Codes:

39 (Analogue) + 83 (Digital)

No. of Channels:

8

Talk Range :

Up to 8km (4.5 miles) depending on terrain and conditions

Dimensions (H x W x D):

188 x 56 x 39mm (with antenna)

Power Supply:

Premium AA Alkaline Batteries or LiIon Rechargeable Battery Pack

Battery Life:

based on (5/5/90) Cycle  With premium quality alkaline cells    12-16 hours usage per charge* (1100 mAh LiIon)24 hours usage per charge* (2200 mAh LiIon) 35 hours usage per charge** (AA)
Images: 1 | 2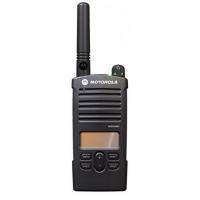 Click to view larger Image.