Call us on 0844 804 4190
Nailers, Staplers, Nails and Staples, Safety Footwear, Safety Equipment & Workwear

.
JSP Thruxton Safety Helmet Mounted Ear Defenders (Black)
Description

Surefit hard hat with attached ear defenders. Fit securely on to the JSP safety helmet. Ear muffs come with stand-off positioning. H=31, M=23, L=16, SNR=26, EN352-3. For use with MK 2/3 helmets.
The new Surefit™ ear defender attachments have been designed specifically for use with the new Invincible® Mk VI® and VII® safety helmet hard hat. They incorporate a spring loaded stand off function which allows them to press firmly to the head and create a good against noise seal.

The universal slot enables a very firm fitting of the ear defender adaptor blade that grips the safety helmet shell and retention is further enhanced by a clip, which may be optionally added to the underside of the hard hat to give extremely firm retention for harsher environments.


When not in use the ear defender stands away from the head and the safety helmet to keep the ear cushion clean

The new Surefit™ ear defender provides excellent hearing protection and ease of use
Images: 1 | 2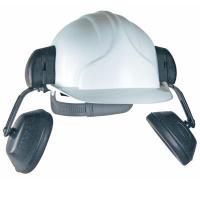 Click to view larger Image.