Call us on 0844 804 4190
Nailers, Staplers, Nails and Staples, Safety Footwear, Safety Equipment & Workwear

.
JSP MK7 Standard Peak Head Protection Hard Hat
Description

Standard Peak, Top Ventilated, EasyJust™ Slip Ratchet for fast and secure fitting and also comes with retractaspect built in protective eye protection . The Mark 7R safety helmet has been designed with comfort, performance and style in mind and incorporates the most innovative design features to date to be seen yet on a hard hat. Please insert the following two digit numbers in place of the dashes into the code of your required Helmet to indicate your colour selection: 01 White, 02 Yellow, 03 Green, 05 Blue, 06 Red, 08 Orange
Terylene webbing harness with fully absorbent leatherette comfort band

Comes fitted with Sureslide® Retractaspec, is ventilated and with Easyjust® harness adjustment syste

Short peak option available

Push and Twist Lok™ wheel ratchet option available

Non-ventilated option available
Images: 1 | 2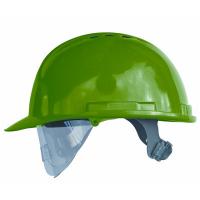 Click to view larger Image.