Call us on 0844 804 4190
Nailers, Staplers, Nails and Staples, Safety Footwear, Safety Equipment & Workwear

.
JSP Comfort Plus/Slip Safety Helmet Hard Hat
Description

Traditionally Europe's most popular design, these stylish hard hats are tough, functional and offer an extremely comfortable secure fit on the head for prolonged periods of use. Designed for prolonged wearer comfort. These safety helmets secure onto the head with the slip ratchet system. Conforms to EN397,ENSIZ89.
Please insert the following three digit number in place of the dashes into the code of your required Helmet to indicate your colour selection: 100 White, 200 Yellow, 300 Green, 500 Blue, 600 Red, 800 Orange.

Replaceable foam sweatband, 6-point terylene webbing comfort plus suspension harness

Shell manufactured from impact-resistant UV stabilised high density polyethylene

Wide area on the front of helmet for corporate logos or images

Fully adjustable harness offers a secure safe fit of helmet

Light well balanced design with low dome profile

Helmet offers 440v electrical insulation

Incorporates a rain channel

Accepts Cliptite accessories

Conforms to EN397, ANSI Z89

530-620mm sizing (61/2" - 73/4")
Images: 1 | 2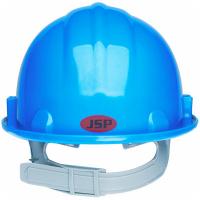 Click to view larger Image.