Call us on 0844 804 4190
Nailers, Staplers, Nails and Staples, Safety Footwear, Safety Equipment & Workwear

.
Moldex Series 3000 Reusable Mask FFP3 - D Ventex Valve
Description
The washable full face seal and the unique pleated filter technology gives you the option of using the 3000 Series for more than one shift. Ideally suited to heavy industries. FFP3 R D for protection against all dusts, mists and fumes (based on water & oil). 20 x WEL.
-Pleated filter technology reduces breathing resistance by up to 50%.
-Washable face seal - wipe clean leaving the mask hygienic.
-Strap and Clip, for easy application. Hang the mask around the neck during breaks.
-DuraMesh?? structure for optimum shape retention and durability.
-ActivForm?? Seal automatically adjusts to different face shapes.
-Ventex??-valve: reduces moisture and heat, keeping the mask as cool as possible.
Images: 1 | 2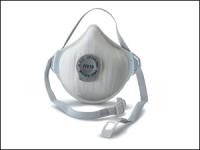 Click to view larger Image.