Call us on 0844 804 4190
Nailers, Staplers, Nails and Staples, Safety Footwear, Safety Equipment & Workwear

.
Moldex Pocket Disposable Mask FFP2 Nr D
Description
This foldable pocket mask has all the features of a traditional Moldex cup mask. Ideally suited to lighter industries, where the mask is carried between use or industries with hygiene implications. FFP2 NR D for protection against toxic dusts, mists and fumes (based on water & oil). 10 x WEL.
- Unfold & wear.
- Packaged for the pocket protects from dust before use.
- DuraMesh?? structure for optimum shape retention and durability.
- ActivForm?? Seal automatically adjusts to different face shapes.
- Ventex??-valve: reduces moisture and heat, keeping the mask as cool as possible.
Images: 1 | 2 | 3 | 4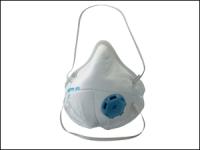 Click to view larger Image.