Call us on 0844 804 4190
Nailers, Staplers, Nails and Staples, Safety Footwear, Safety Equipment & Workwear

.
Moldex New Generation General Purpose Mask FFP2 Nr D Ventex Valve
Description
Suited to most industrial applications this general purpose mask is strong and durable. The ActivForm?? seal automatically adjusts to different face shapes and movements, reducing the need for multiple mask sizes. FFP2 NR D for protection against toxic dusts, mists and fumes (based on water & oil.) 10 x WEL.
-Strap and clip, hang the mask around the neck during breaks.
-Blue clip suitable for the food industry.
-Nose seal increases fit and comfort.
-DuraMesh?? structure for optimum shape retention and durability.
-ActivForm?? Seal automatically adjusts to different face shapes.
-Ventex??-valve: reduces moisture and heat, keeping the mask as cool as possible.
Unfortunately these items are not currently in stock. We are working hard to procure stock and will update this page with further information when it comes back into stock.
You can call us to discuss your requirements to see if we have other suitable alternative respiratory safety products on 0844 804 4190
Images: 1 | 2 | 3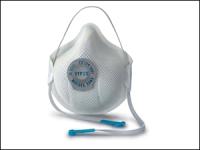 Click to view larger Image.