Call us on 0844 804 4190
Nailers, Staplers, Nails and Staples, Safety Footwear, Safety Equipment & Workwear

.
Faithfull Clamp Heads
Description

Hardwearing cast iron head and slide.
High quality steel handle and main screw for long life.
Steel securing pins and chain enable quick, easy and accurate setting of the clamp.
The inexpensive alternative to sash clamps. By fitting to any length of wood 50mm x 25mm.
Ideal for clamping large objects such as doors and window frames.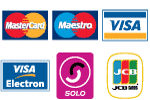 1 @ £81.95 - £81.95
Subtotal: £81.95